Who we are.
Teachers (Who have spent decades toiling in the mind fields of academia, we now find ourselves without gainful employment within the ivy covered walls. Actually without gainful employment period. We're retired.)
Travelers (With a pooled country count of 149 (as of this date, but sure to be growing at a moments notice. See HOME page.)
Connoisseurs (We have eaten at Taillevent in Paris $$$$$EU and snacked on tapas from a highway rest stop café in Spain, less than one $EU.) Sometimes it's true that you get what you pay for but price and quality are not always a perfect relationship. We know what we like and we're not afraid to name names.)
Biking enthusiasts (Lots of our foreign and domestic trips have been exclusively biking trips but these days we pretty much ride "every now and then". Almost always we do a "city tour" and we recommend that Paris by bike or Madrid by bike, or Buenos Aires by bike, etc. beats the hell out of riding on a bus with fifty sweaty tourists listening to rapid and consecutive descriptions of "the highlights" in English, Spanish, French and German.)
Wine lovers A bottle a day keeps (something nasty) away. That's our motto. (One of anyway.) We're pretty sure it's true. But, we're not snobs. One of the best bottles of wine we ever tasted went through a flood and was without a label and cost about twenty bucks in an Italian restaurant in San Francisco. Generally we practice the rule, "Vente Euros, no mas!", but we can splurge under pressure from some sommelier whispering sweet promises.
One of us is a (humble) WRITER with a strong irreverent streak, so be forewarned: that isn't the only "f" word you're going to see. (Weapon of choice is an Apple MAC Air.)
One of us is a (stellar) PHOTOGRAPHER. Do you know anybody else who can say they got to hang with Ansel Adams? (Favorite current W.O.C. = Nikon DSLR.)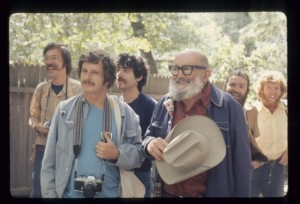 Our goals for Desto3 are simple. Our friends and families like to follow our progress wherever and whenever we go off exploring. If you want to come too, join the family and subscribe. It's FREE! Maybe we'll tell you something you don't already know about someplace you haven't already been. If we make you laugh or wow you with a photo please spread the word. As the Desto3 family gets bigger, we think that the world gets a little smaller. Ain't that grand?